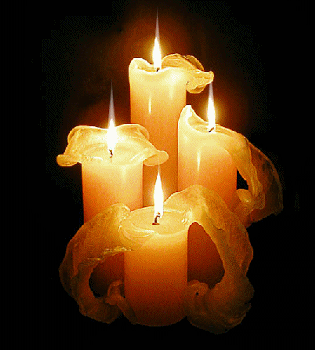 I HAVE LIT THE MOMENTUM OF WRITING AGAIN
* * * * * * * * * * * * It feels good to be back to writing after a lengthy delay of 20 days. I don't have any reason as to why I didn't write. Few days back somehow, unexpectedly, I decided to post my pending article. Yes I was and I am not satisfied with what I had posted earlier. Few said "there's nothing wrong about it…" yet some others sided my thoughts that I could re-write the same. Some others kept quiet. But I'll go by what my heart says. I'll keep writing, writing, writing, writing…………………………… until my heart says "I'm happy". Still if not satisfied, (((((don't doubt))))), I will write it again. ;) I don't mind doing it 'n' number of times or if this becomes a trend for me either. ;) Nevertheless, when in doubt I'll re-write. (As once tweeted by
ashok567
;)) Even I've to follow what I've written. I can't simply write things or post articles without practicing them myself. ;) The kind of environment that I'm into, I'm bound to give more importance to the values to be learnt than that of bookish education. Technical knowledge is a must; I'm not claiming it's worthless. But it becomes wisdom if it's applied somewhere. Wisdom is bearing more gravity than knowledge. So it is natural that wisdom be given a greater priority.
Once you get a hold of your wisdom, your common sense starts working. And once your common sense starts its work you will be surrounded with 10s of 100s of 1000s of questions which may not let you sleep in peace. (((((((I'm not only referring to the "Technical aspect of knowledge-wisdom relation" but I'm also referring to the "Value based knowledge-wisdom as well". In fact it is the "Value-based education" or in other words "Education of the Heart" is the one that matters to me the most, if you ask me my opinion.)))))))
But most of us in certain aspects get afraid to follow our hearts. This is what even I experience many an instances. I hope I am successful in separating my mind from intervening in what my heart wants to say and I know I will be. It's only when we think from our minds that we never get to know certain things which we ought to know. We never get what we want because we think from our heads rather listening to our hearts. I too have missed opportunities many an instances. Reason: I didn't listen to my heart. The wisdom we get from doing what our hearts has to say is tremendous. Its only by wisdom we get doubts. And wiping away these doubts is the key to open up our minds to a more colorful world.
Human relations, values, health, studies, career, wealth and everything in this world are set up on a platform or a strong foundation that bears the entire weight of everything above it. Thus, it is proven that foundation needs to be really strong. Any baseless thing would give no results. No results at all!! If you really are pestered by a doubt or a faintest feeling that things are going cluttered, here you need to stand up and follow what your heart has to tell you. You want to ask someone something? Then ask it. You want to tell someone something? Then tell it. Clarity in what you want is of utmost importance. Know what you really want. Again, here, your heart comes into view. If your mind is surrounded by other people's minds whose prime purpose is to confuse you, then here is where you need to be smart enough to know what to listen to.
You may remain foolish in front of others when you do what your heart tells you. Some of you may even go against the wishes of the others. But ultimately, the reason why you did it will be the strongest reason you can ever give them. Again, they may agree with you or disagree with your reasons. But in the most genuine situation, I would say, there is no need to give a reason at all. Persons, who can understand you, will definitely get to know the reason by default. Erasing away your doubts need to be given more priority than giving justifications to others. Ask questions, seek answers. Don't remain quiet just because you take your life for granted, just because somebody laughs at you, just because somebody would fire tantrums on you, just because you'll remain a fool for a while or just because somebody pulls your legs. Analyze every situation as to why it is happening.
But my sincere advice to you is not to over analyze things because this leads to paralyze of your mind and heart. One may not be able to differentiate between the right and the wrong once you are into the habit of thinking too much also. It happens to me when I usually carry out my studies during a VTU semester exam. My thoughts, my mind and what not get concentrated on one subject due to excessive analyzing and I would not be able to proceed any further. I'm not saying that thinking is bad, but over thinking can be erratic. Little bit of thinking is always advisable. That is not an issue at all.
Hmmm… but I've noticed that to some extent I'm, kind of, detouring away from the actual subject of interest. Do I have a doubt here…??? Lolz... No. I know what I'm writing. I don't know why, but, my thoughts and emotions are pouring out like water this time….. :D :D :D
* * * * * * * * * * * * Coming to exams: Answering an exam can be done in three approaches
1) Copy from your neighbor's paper (Teachers, please don't punish me for this)
2) Take micro Xerox (Teachers, please don't punish me for this as well)
3) Study, study, study, study….. And ask doubts with your friends or teachers or Google it out.
I know I know the third approach is the easiest approach..!! Lolz…:D :D :D This approach is what all nerds like me follow. :P :P :P I would write in a very studious language now. A doubt regarding studies or something close to studies is always welcomed. It does help you in the long run when you encounter, may be, a similar problem. But don't hesitate to ask questions or clear your queries with the concerned people. You can always approach your lecturers concerned and disturb them with your doubts. ;) ;) ;) What I'm writing about, right at this moment, may be a very silly issue for most of you all, but you'll never know. By resolving your confusions, you may just score your distinction in your results (especially VTU). Or you may even lose your distinction by just a single "one mark". You may clear the subject by that "one mark" or you may lose it also. The feeling you get when you lose or gain your distinctions or targets by just one or two marks is XXXXXXXX. I'm really being honest here. For a nerd like me it is quite a big deal :P :P :P (Now don't grumble at me) I had experienced this in my last semester VTU. I had lost my distinction by 13 marks. (Huge number) But thankfully, because of the revaluation system of VTU, I got my distinction tag back. Now I know where I went wrong and I have assessed it quite a number of times. Nevertheless, I need to hope for the best and be positive in my thinking too. This will help me a lot I know.
A doubt can help a lot I felt. So I thought why not take a trial of digging my thoughts on this. Yes!! Even though I look silent, I do ask a lot of questions "secretly" if I'm not clear with something. The persons who clear my doubts, I know, they can bear with me, since I ask the silliest doubts ever. Don't be shy people. Nothing can harm you on this. In fact it does not even need any courage to ask doubts.
Any matter, any issue can also be resolved if questions are raised.
I hope I'm successful in every way in these last two semesters of my Engineering life. And of course Thanks a lot my lovely and patient readers, for reading through this lengthiest article of mine.